As the old saying goes, a picture is worth a thousand words. One of my SMI Advisory partners came up with the following chart, which helps visually convey some of the important Dynamic Asset Allocation principles we've written about often.
This chart simply takes the rolling 12-month return of the S&P 500 stock index and subtracts the rolling 12-month return of DAA. It vividly illustrates how when the stock market is doing well (the upward spikes), DAA tends to lag the market. But when the stock market isn't doing well (downward spikes), DAA has tended to massively outperform.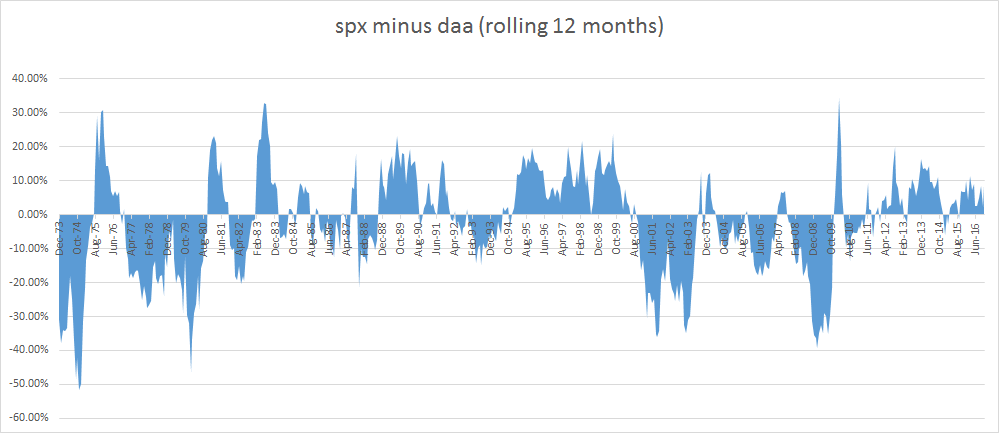 A few additional observations about this chart:
Note how there are more upward spikes than downward. But when the downward spikes occur, they tend to be of significantly greater magnitude. This shows the tendency for the market to be advancing more frequently than declining. However, when declines (bear markets) do come, they tend to be fierce.
It's the greater severity of the downward moves that allows DAA to make up so much ground relative to the market so quickly during bear markets.
The recent period of stock market outperformance relative to DAA roughly matches the previous longest period of stock market outperformance ('94-2000). Obviously, what followed would have made investors want to have had DAA in their portfolios as that leadership switched swiftly and sharply to DAA.
It's worth noting that the excellent overall performance we reported in our January 2013 DAA introductory article ony included the period from 1982-2012. Looking at the chart, it's very clear that DAA's long-term performance (relative to the market) would have been substantially enhanced had we added the prior decade. We didn't primarily because some of the data sets we had to use to backtest pre-1982 weren't the same as what we used post-1982. Plus the results from 1982-present were convincing enough.
Most people use DAA within a portfolio that also includes other stock market investments (Just-the-Basics/indexing, Upgrading, Sector Rotation, etc.). Another way of looking at this chart is to think of the upward spikes as the times when those strategies have outperformed DAA, and the downward spikes as the times when DAA has outperformed those strategies. Thinking in terms of total portfolio returns is going to help us not get frustrated with the performance of the individual strategies, which is important because when we get frustrated, we tend to make emotional decisions.
The chart makes it really clear that there has never been a period in the past 45 years when stocks have outperformed DAA longer than the period we're in right now. That doesn't mean it won't happen this time — we're only looking at 45 years of data, after all, not 450 years. But it does give a pretty good idea of the length of past market cycles and when they've tended to reverse. If that pattern holds true, the protective aspects of DAA are likely to be needed before much longer.